Power Recruit Camp attracting top talent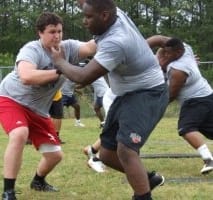 This time of year in football is where the training gets more intense.
Players opt to better themselves and refine their skills in preparation of the
upcoming season. For several of the elite players its a time to showcase their
skills to help maximize their choices on the next level. And for some diamonds
in the rough, the off season can be their opportunity to sparkle of the spotlight.
On May 12 at Patrick Henry High School many players will have that opportunity to display their abilities as well as refine them at the
Camp. This years Power Recruit Camp brought to you by Life Through Sports offers athletes an opportunity to qualify for an invite to the 2012 FBU Top Gun Camp July 19-21 in Williamsburg (footballuniversity.org). Standouts from
the Top Gun Camp may earn a spot to play in the U.S. Army All-American Game in
January.
Some of the top athletes in the region will compete in drills to show off what makes them ready for the next level. There will also be a 9-on-9 (titled the Mass9) competition that will give good work for all that are involved. A few
Barnes, an offensive guard from the Petersburg Crimson Wave has superior
strength and technique and is expected to emerge as one of the best lineman in
Freshman Tino Ellis who will be playing for DeMatha this fall, stands 6-foot-1
and is at 180 pounds. Ellis has superb hands, speed, and strength benching over
250 pounds. Ellis achieved highly in his 7th and 8th grade years so much he
qualified for the EastBay Youth All-American game both years.
Ngakoue out of Friendship Collegiate out of Washington D.C. is a 4-star
linebacker will be out to prove he is worthy of a Top Gun invite and move up
amongst the Rival player rankings. The very instinctive and dominating backer
has over 18 offers which include Florida State, Michigan, and West Virginia. The
D.C. linebacker stands 6 foot 3, 225 pounds.
This year's Power Recruit Camp will give 7th and 8th grade athletes will also
have an opportunity to earn invites to the Youth Top Gun Camp also in Williamsburg July 23-25. Players can earn a spot in the Eastbay Youth All-American game.
To be apart of the action and get your opportunity to get notice go to
the camp director William Massenburg at 804.304.6452.
Keep up with VirginiaPreps on all the info on everything football as another amazing season is only a few months away!
Sign up for premium access to VirginiaPreps.com with a 7-day free trial!
Check out our FREE top prospect listings:
Class of 2013 |
Class of 2014
VIP Board provides the latest in recruiting updates plus in-depth top
prospects lists for football, basketball and baseball!