Posey Re-Ups With JMU
Joe Posey had been through all the
recruiting. He'd heard all the sales pitches, seen all the campuses.
In the end, he didn't want to
re-do all that work.
"I wasn't really trying to
go back down that road," Posey said.
On Monday, Posey met again with
new James Madison basketball coach Dean Keener and reaffirmed his commitment to
play for the Dukes next season.
"All is well," Keener
said after returning to Harrisonburg on Monday night. "We had a really nice
visit. He's a wonderful kid and he's going to be a great student-athlete for
James Madison."
Posey, a senior at Notre Dame
Academy in Middleburg who was recruited by former Madison coach Sherman Dillard,
said he initially told Keener he would honor his commitment when the two met
last Thursday, then reaffirmed that decision Monday.
"He's a new coach with a
lot of energy," Posey said. "He wants to do some new things. Everybody
so far feels positive about him and so do I."
Posey was the most highly touted
of three high school seniors to sign letters of intent with Madison before
Dillard was forced to resign on March 7.
Since then, bigger schools have
come calling – notifying Posey's high school coach that they would be
interested in the 6-foot-5, 188-pound shooting guard if he asked JMU to release
him from his commitment.
Posey said the only one he
considered seriously was Penn State, which would have given him a chance to play
in an elite league.
"At first, it seemed like
there was going to be a better opportunity, a chance to play in the Big
Ten," said Posey, who attended basketball camps at James Madison as a
youth. "But once you think about it, I didn't know the coaches or the
campus. There was just more pros at JMU."
Posey said he was uncertain
whether Penn State would have offered him a scholarship if he had been released
from his commitment. Schools are forbidden by NCAA rules from offering
scholarships to athletes who have already signed letters of intent.
Dillard was one of the biggest
reasons Posey chose Madison in the first place. The 19-year-old had been a
frequent attendee of Dillard's camps and forged a strong relationship with the
coach.
Posey said he spoke to Dillard by
phone during the Final Four.
"He was just talking to me
and he said he was sorry that things went the way they went," Posey said.
Posey said Dillard, JMU's second
all-time leading scorer, didn't try to persuade him one way or another about
his choice.
"He didn't really say
whether I should or I shouldn't [go to JMU]," Posey said. "He just
said that he supported any decision that I made. And if I decided not to, he'd
support my decision in that."
Before sitting down for dinner at
the Outback Steakhouse in Harrisonburg, Keener also said he was continuing to
talk with Pennsauken (N.J.) High School point guard Al Fisher, another of the
trio of Dillard recruits.
"I talked to him
tonight," Keener said. "We're still in discussion. We're still
trying to build relationships."
Fisher did not return phone calls
to his New Jersey home Monday.
His coach, Tim Dunne, said only
Sienna and LaSalle had expressed interest in the 6-foot, 177-pounder if he
reneged on his commitment to JMU.
Dillard's third signee, shooting
guard Chris Matthews of National Christian Academy of Fort Washington, Md., has
already said he is honoring his commitment to Madison.
Keener still has one scholarship
available – the one that belonged to redshirt sophomore Todd Moret, who
couldn't come back from surgery to repair cartilage in his left knee. Moret
played eight games his freshman year but sat out the last two seasons after the
surgery.
Last week, Keener indicated he
would look for a Division I transfer as he attempts to turn around a program
that has had four straight losing seasons, including a 7-21 record this past
winter.
(reprinted with permission)

for superior sports coverage of the Harrisonburg and Valley area.
More Hoops News: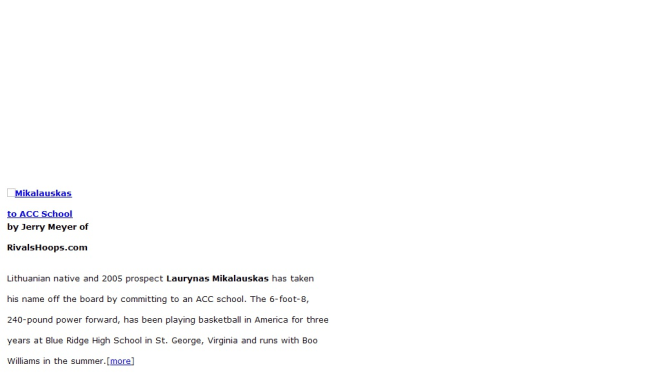 Top Player Lists (Boy's Hoops)
of 2007, 2008, +
of 2006
List!
of 2004