Lake Taylor's Tucker-Dorsey Picks JMU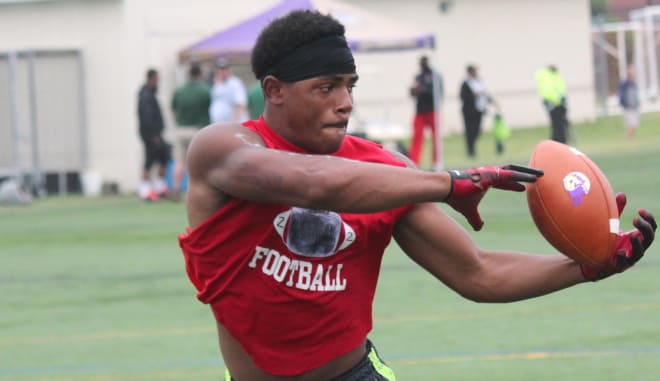 Lake Taylor Class of 2017 linebacker Diamonte Tucker-Dorsey will play his College Football in-state.
Tucker-Dorsey announced his pledge to Mike Houston and the James Madison University Dukes of the CAA live on Saturday during ESPN Radio 94.1's High School Sports Talk Presented by VirginiaPreps.com.
"I will be committing to James Madison University," Tucker-Dorsey said on the program.
"I loved the coaching staff since day one, plus they were my first offer. I went down there to the Junior Day unexpectedly. Everybody was in the room, all the recruits. They called me on the loud speaker, told me to bring my mom and brother. We went upstairs, talked to the Head Coach and got the offer."
JMU was Tucker-Dorsey's first offer back on April 2nd. The Dukes beat out 11 other schools for the Norfolk product's services, including finalists Buffalo, Norfolk State, Towson and Youngstown.
A 5-foot-10, 210-pound defender, Tucker-Dorsey built a great rapport with JMU assistant Bryan Stinespring, formerly of Virginia Tech. That comfort level bled over to the entire staff.
"It's been love since Day 1 - Coach [Byron] Thweatt, Coach Stiney, Mike Houston," Tucker-Dorsey added. "I just love all of them. It's a great school. I can play early. It's just the right situation for me."
Last season as a junior, Tucker-Dorsey was second on the Titans in total tackles with 114, plus had 30 stops for loss, eight pass breakups, six sacks, four forced fumbles recovered four fumbles. That earned him First Team All-Region and Second Team All-State recognition.
"I think it's awesome," remarked Lake Taylor Head Football Coach Hank Sawyer of Tucker-Dorsey's decision. "He had some great offers, all 12 of them. We went to a Team Camp a couple years ago at James Madison and I thought what a great school there. I saw more of the school than the football part of it, and football-wise I knew there were some great things."


Tucker-Dorsey becomes the second player in the Class of 2017 from Hampton Roads to commit to JMU, joining Nansemond-Suffolk Academy outside 'backer KeShaun Moore (read more on his commitment here). They continue a recent trend of '757' area code prospects to Harrisonburg with 12 players from Tidewater currently on JMU's roster.
"You've got to go where you fit and more than anything you've got to go where people have a deep love for you to help you become a great football player and help the program," Sawyer added on ESPN Radio 94.1. "There's nothing like playing for a coaching staff that really deeply wants you. I'm proud of Tuck. Congratulations to him and his family."
With his commitment to JMU, Tucker-Dorsey becomes the second rising senior from Lake Taylor make his college selection. Just a week ago, four-star defensive tackle Darnell Ewell made his call to Notre Dame (see more on that here).
August scrimmages with Woodside and Petersburg await for Lake Taylor, which will open up its 2016 campaign at home against Heritage out of Newport News on August 26th.