Class 4 State Final Preview: Lake Taylor (13-1) vs. Woodgrove (10-2)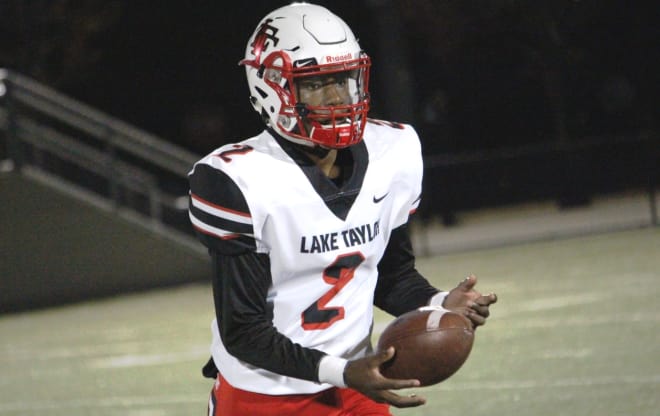 Liberty University in Lynchburg will be the site on Saturday afternoon as the Lake Taylor Titans at 13-1 overall take on the Woodgrove Wolverines, who come in at 10-2 overall and riding a nine-game winning streak.
Coach Hank Sawyer's Titans of Lake Taylor are going for their third state title, reaching the Championship round for the fourth time in seven years. Another challenging schedule prepared for the crew from Norfolk that brought back crowns in 2012 when they beat Stone Bridge and 2014 after defeating Salem, who exacted revenge in double-overtime a year later at Liberty University. Seven of the 15 opponents for Lake Taylor this season played for a regional title. That includes two teams in Freedom out of Class 6 and Phoebus out of Class 3 that are also competing for State Championships, each of whom the Titans beat.
Woodgrove – led by Richmond commit Ben Castellano at wide receiver – knocked off previously unbeaten Blacksburg, 26-23, in overtime last week to reach the title round for the first time in program history. Castellano hauled in the game-winning touchdown pass from QB Graham Walker in the extra frame. Experience seems to rest on Lake Taylor's side, especially considering that Woodgrove as a school has only been open since 2010.
Wolverines Head Coach Mike Skinner has won a State Championship before, leading Centreville to the crown in 2000 at the University of Richmond when the Wildcats defeated a team from the '757' area code - Deep Creek - by a count of 28-26. Since becoming the head man at Woodgrove in 2012, Skinner has quickly elevated the Wolverines into a contender, going no worse than 6-4 in any year at the helm.
How the Titans Got Here:
Lake Taylor opened the season 6-0 overall, beating the likes of Freedom of Woodbridge 42-28 to avenge last year's worst loss in program history, beat a Maury team that reached the Class 5 State Semifinals in front of more than 4000 fans in Norfolk by a count of 49-35 on a Monday night, and piled up 58 points on city rival Norview. Then they were dealt their toughest test with a Thursday night trip to Darling Stadium to take on Phoebus, who also beat them in 2017.
Without versatile standout Javon Harvey, still recovering from a concussion he sustained against Norview, the Titans saw sophomore QB Jeff Foster orchestrate an 11-play, 71-yard drive with less than three minutes to play to put his team up for good in a 21-17 comeback triumph. Just a couple weeks later though, Lake Taylor would get beat by Region 3A runner-up Norcom, 33-13, in a game where the Greyhounds hit them for 272 yards through the air and four touchdowns.
Since that loss, the Titans have gotten back to their winning ways, averaging 49.3 points per game during this seven-game winning streak. Maybe most impressive is the fact their defense has gone from allowing 23.1PPG through that first defeat, to 14.3PPG over the past seven wins. After pulling away from Lafayette, 35-14, to win Region 4A, the Titans played their final home game of 2018 against unbeaten Eastern View and survived with a couple of fourth down stops late in the fourth quarter to hold off the Cyclones in a 35-31 thriller - where Foster threw for 329 yards and 2TD's, while Harvey had five catches for 211 yards and 2TD's.
How the Wolverines Got Here: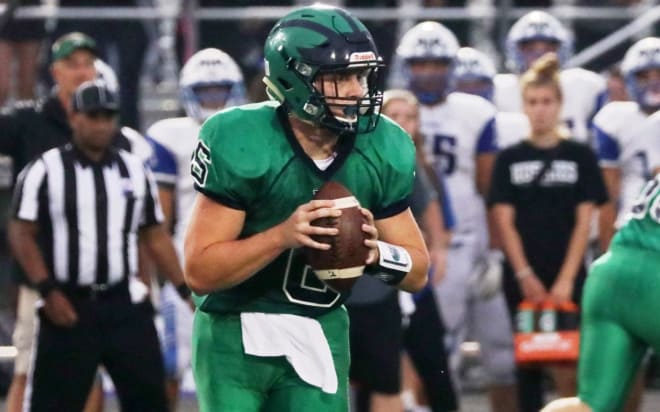 By no means did Woodgrove take a cupcake road to get here, despite the fact they played one fewer regular season game and one less playoff match than Lake Taylor. Following their 56-14 season-opening rout of Armstrong, the Wolverines suffered back-to-back losses to a couple of Class 5 schools that played for regional titles in Massaponax and Broad Run. Yet, Woodgrove won handily 42-28 over Tuscarora, which played runner-up for the Class 5 crown to Highland Springs a year ago.
As wild as it sounds though, the Wolverines are averaging fewer points per game this season - 30.5 per contest - than in 2017 when they put up 38PPG and missed the playoffs altogether at 6-4. So what's the difference with this year's Woodgrove team? Look no further than the defense, which has held seven foes to 14 points or less. That strong play on defense showed up in the overtime in the State Semis against Blacksburg, holding the Bruins to five yards on three plays to force a field goal try.
Perhaps Woodgrove's finest showing defensively came in a 27-3 win over Sherando, becoming the first team all season to hold the high-scoring Warriors out of the end zone. It's worth pointing out that Sherando starting QB Hunter Entstminger didn't play in that game, but the offensive consistency has also been there for Woodgrove during this nine-game winning streak that has seen them put up no less than 26 points in any outing.

Lake Taylor Names to Know: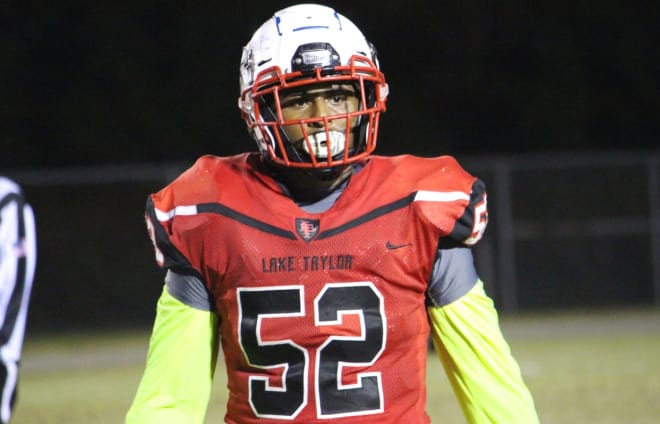 When Lake Taylor last got to the State Finals in 2015, they had a few current seniors who were freshmen on that squad - Javon Harvey as well as linemen Tavion Copeland and Jayshaun Brown-Houston - who came close to winning a ring. Harvey made the transition from quarterback to wide receiver last year on offense and he's been the big-play threat for QB Jeff Foster, hauling in 35 passes for 860 yards and 10TD's. On defense, Harvey has a team-high three interceptions, plus he matters a great deal on special teams with 339 punt return yards and two scores.
The bruising ball carrier that Lake Taylor leans on a great deal out of their twin-veer is sophomore Malik Newton, a three-sport standout that also excels in baseball and basketball. Newton is closing in on the school-record for rushing yards in a season, set in 2015 by VMI's Daz Palmer when he ran for 2073 yards. Newton sits at 1861 yards, meaning he'll need 212 to tie him. The Region 4A Offensive Player of the Year has 29 rushing touchdowns as well as 10 catches for 395 yards and 4TD's, plus is fourth on the team in tackles with 61.
Copeland and along with Denzel Ewell - younger brother of ex-Titans standout and current Notre Dame lineman Darnell Ewell - earned 1st Team All-Region honors along the o-line for the Titans. They aren't expected to have center Patrick McEachin, a junior who suffered a leg injury against Lafayette in the Region 4A Championship and was 2nd Team All-Region. Foster has shown tremendous progress at QB with 1915 yards passing and a 19-9 TD/Int. ratio along with 830 yards rushing and 18TD's.

Chosen Region 4A Defensive Player of the Year, junior OLB Ikeem Wright (91 tackles, 15TFL) looks like a mini version of Jalyn Holmes - the former Lake Taylor star that went on to Ohio State and now plays for the NFL's Minnesota Vikings. Senior DE/OLB Corey Holloway (101 tackles, 19 sacks, 10 forced fumbles) brings constant pressure along with him. Throw in Copeland, Ralph Byrd, Dallas Spruill and Tyrique Tucker, the core of this defense has bought into Sawyer's relentless brand of defensive football. Raylyn Manley and Dominique Daniels complement Harvey in the secondary.
Woodgrove Names to Know: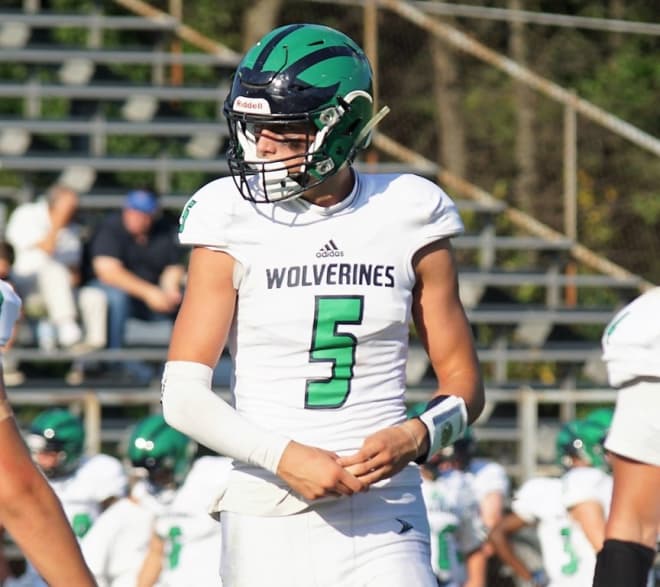 Coming over to Woodgrove from Battlefield, senior signal caller Graham Walker has been extremely steady at the command of the attack by completing 111 of 187 passes for 1523 yards and a 19-3 TD/Int. ratio. Able to operate out of spread or single-wing, the Wolverines are very effective at running the football with 2650 yards and 31 touchdowns as a team on 549 attempts with just five lost fumbles on the year. The Region 4C Offensive Player of the Year, Walker has run the ball 236 times from the QB spot for 1023 yards and 13 scores.
Up front on the o-line, Woodgrove has a pair of senior All-Region 1st Team selections paving the way in Mike Wilson and center Dominick Caputo as well as 2nd Team All-District performers with Ivan Adams and junior Trent Edmondson. They'll be counted on to create running room for Walker, junior K.J. Lewis (192Att. 1060Yds. 13TD's) and freshman Price Williams (60Att. 407Yds. 5TD's). As mentioned earlier, Ben Castellano is the big-play weapon in the passing game and boasts team-highs of 41 catches and 7TD's to go along with 330 yards receiving.
Nick Lockhart was not only the Dulles District and Region 4C Defensive Player of the Year for Woodgrove, but a significant factor in the passing game with 23 catches for a team-best 525 yards and 4TD's. Lockhart is also an accomplished baseball player, committed to play that sport at Virginia Tech. Krzys Miller (15Rec. 302Yds. 3TD's) and fullback Cameron Beebe (18Rec. 238Yds. 2TD's) are quite capable of making plays, too.
To go with Lockhart defensively, senior lineman Jordan Berkowitz also received 1st Team All-Region recognition. A trio of juniors at all three levels have provided important contributions with lineman Theo Wilson, linebacker Lukas Branch and defensive back Malachi Haynes, a 1st Team All-Region performer. Branch and Wilson were both 2nd Team All-Dulles District on defense.
Lake Taylor Keys to Victory: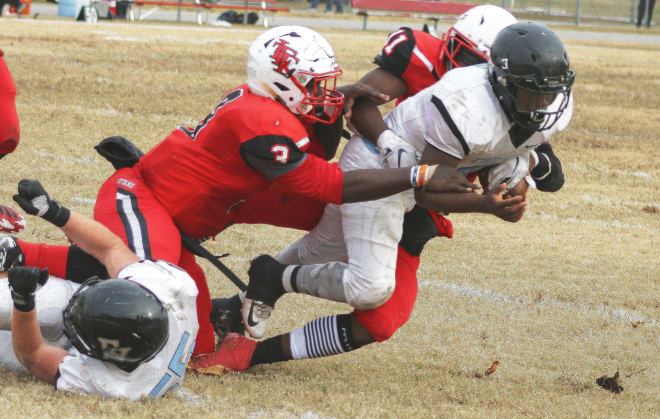 1. Contain Castellano: Though he's averaging less than nine yards per catch, Castellano is the sure-handed, most dependable playmaker on offense for Woodgrove. The previous two years, he put up gaudy numbers - 87 catches for 1140 yards and 15TD's - and he's a matchup problem for a lot of defenses whether he lines up out wide at receiver, in the slot or at tight end. Lake Taylor's defense can take a huge step towards bottling up the Wolverines by making sure they keep Castellano in check by being physical and trying to minimize his catch opportunities.
2. Big Plays > Long Drives: There's no doubt that Woodgrove wants to come into this game and play a methodical style rather than get into a track meet with Lake Taylor, given the type of speed and athleticism the Titans possess on the perimeter. All one has to do is look back at the 42-28 win for Lake Taylor over Freedom and see all six touchdowns lasted no longer than 3:19. In fact, three of them took less than a minute. If the Titans can hit the big pass play with Harvey, Wright, Holloway or Newton, they'll be aggressive in seeking that, but they also know that Newton and Foster can get a crease and be off to the races, too.
3. Feed Newton to Finish: Through the first 10 games of the season, Woodgrove was giving up just 78.5 yards rushing per contest. In comes a Lake Taylor team that will look to run it down their throat with a tailback in Newton who's averaging 9.9 yards per attempt. Newton gets 13.4 rushes per game, but this game could be similar to the night the Titans beat Class 5 State Semifinalist Maury 49-35 back in September when he carried the football 25 times for a season-high 273 yards and 4TD's. As the games goes along, he gets stronger and tougher to stop. To put the finishing touches, look for Sawyer and crew to ride their workhorse.
Woodgrove Keys to Victory: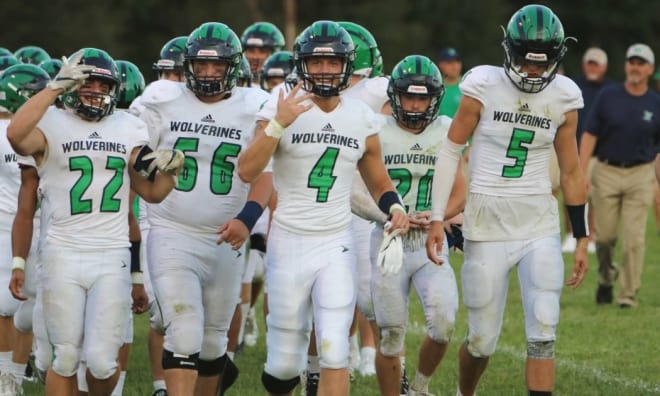 1. Avoid Slow Start: Too many teams that have played Lake Taylor in the regular season as well as the playoffs over the years recently have gotten so far behind that by the time they settle in, which sometimes isn't until the second or third period, it's too late. Eastern View had the formula in many ways to beat Lake Taylor a week ago, jumping out to a quick 10-0 lead not even a full eight minutes into the ballgame. They even had a chance to go up 17-0, but a scoring play was called back due to penalty. Putting the Titans away on their field late was an incredibly tough task. For Woodgrove, surviving the first couple of potential knockout punches Lake Taylor attempts to throw will be paramount.
2. Be Sound on Special Teams: Many eyes will be on junior kicker Nick Arvanitis. Sure, Woodgrove knows that to beat a team as potent as the Titans, settling for 3 instead of 6 isn't what you are looking for, but the kicking game can possibly put the finishing touches on a title win over Lake Taylor as Salem showed in 2015 with Nate Craft. Woodgrove missed a pair of extra point tries against Loudoun County in the region semis had an unsuccessful one against Blacksburg a week ago. Probably even more important is that they limit the return yardage of Harvey, who has scored three special teams touchdowns this season.
3. Crisp Tackling: Not only are Newton and Foster big-time threats on the ground, combining for more than 2700 yards and 47 rushing touchdowns, the third-leading rusher for Lake Taylor - Dominique McNair (127Car. 577Yds. 11TD's) - can break off a big gainer. Woodgrove needs to get push and penetration up front, particularly through the middle with a backup center in the game, and let Berkowitz and Lockhart set a tone in the trenches. Beyond them, the linebackers have to bring Newton down on the initial hit, something all defenses have found tricky to do.
Predictions: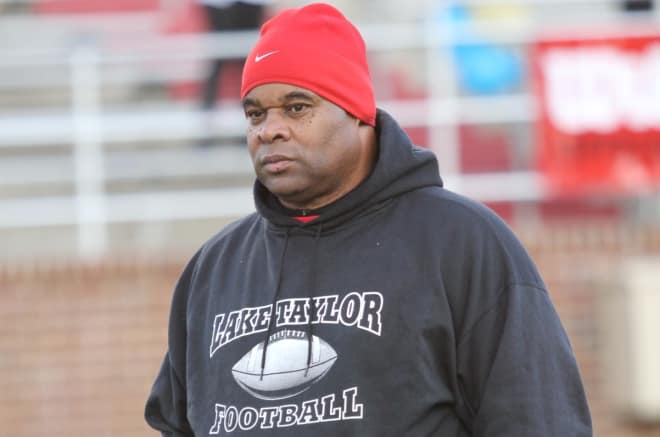 Matt Hatfield Says: Lake Taylor 35-20
VHSL-Reference.com Says: Lake Taylor 23-20
Coach Ed Young Says: Lake Taylor 28-14