Celtics Win Defensive Struggle
Game Recap - Celtics Win Defensive Struggle | VirginiaPreps.com
Mykah English ran for two touchdowns in the 2nd half as Roanoke Catholic remained undefeated with a 14-7 win over Fuqua.
The game was surprisingly a defensive struggle considering the teams combined for 82 points in a playoff game last year. There was no score in the 1st half with both Fuqua and Roanoke Catholic missing field goals.
English ended the drought early in the 2nd half with a 74 yard burst up the middle of the field and he added a 2-pt run to give the Celtics an 8-0 lead with 8:15 to go in the 3rd quarter.
Fuqua answered with a 12-play, 64 yard drive with William French scoring from 1-yard out to reduce the lead to 14-7 with 4:20 to go. Roanoke Catholic ran the clock out by converting three 1st downs.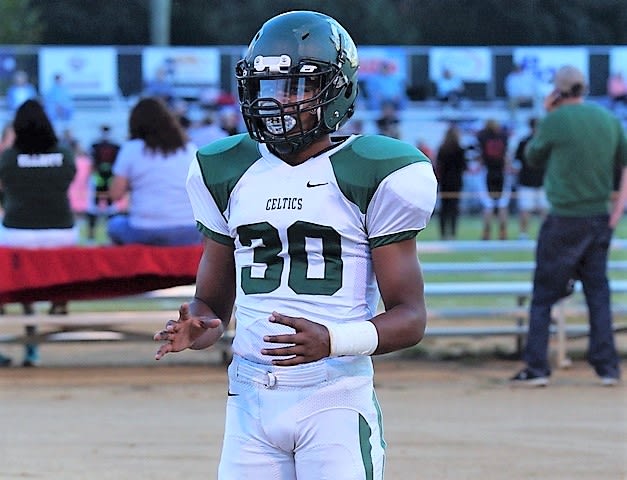 Offensive Player of the Game
English finished with 150 yards on 14 carries after rushing for only 12 yards in the 1st half. His two breakaway touchdowns and 2-point run accounted for all of the Celtics 14 points. A.J Bennett was the workhorse rushing 21 times for 136 yards while converting eight 1st downs. French led the Falcons offense with 157 yards passing and one rushing touchdown.
Defensive Players of the Game
Fuqua was limited to 21 yard rushing and James Carpenter was a big factor causing a 10 yard loss on the 1st Fuqua play from scrimmage. He made several stops at the line of scrimmage he supplied constant pressure in the Falcons backfield. Fuqua linebacker Isaac Drummond had a busy night making close to a dozen tackles.