Celtics Stay Undefeated
Roanoke Catholic scored the 1st three times they had the football and they defeated Nansemond Suffolk 42-21 to complete the regular season undefeated for the second straight season.
The Celtics rushing attack was dominant totaling 370 yards with two players going over the century mark. Sophomore Elamin Shareef had 172 yards rushing with four touchdowns and fellow sophomore Kawuan Ray added 140 yards on only 10 carries including a 32-yard touchdown run.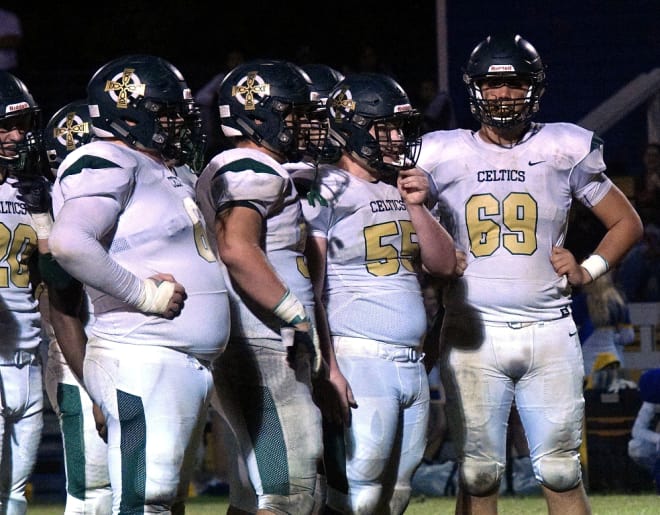 The Celtics Wing-T offense was efficient like a well-oiled machine with the offensive linemen controlling the line of scrimmage. James Carpenter, Steven Clark, Colin Hagy, Andrew Vaught and Spencer Krohmer consistently opened huge gaping holes for the running backs.
The teams traded 1st quarter touchdowns with Shareef scoring on a 2-yard touchdown run and Nansemond Suffolk answering with a 29 yard touchdown strike from Ian McAninley to Ehron Knight. Senior Zac Morris converted the extra point to give the Saints a 7-6 lead. The Celtics quickly regained the lead when Shareef scored on a 3-yard touchdown as the 1st quarter ended.
Roanoke Catholic then used a 14-play drive that ended with quarterback Bryant Guilfoyle passing to Marcus Meyers for a touchdown to give the Celtics a 20-7 lead.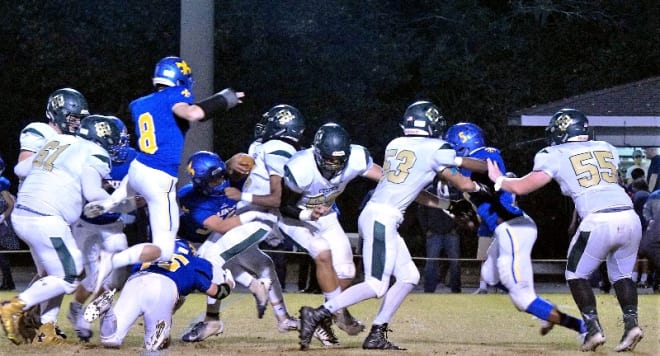 Shareef continued his attack in the 2nd half rushing for two touchdowns with the final one coming with 4:51 to go in the game that gave the Celtics a 42-21 lead. The defense also got involved with James Carpenter gathering around a dozen tackles and two sacks. Shareef and freshman Marquis Adams both had interceptions and Hagy had a huge sack and forced fumble. Adrian Whorley had a pick but it was called back due to a roughing the passer penalty.
Zac Morris had a big game on his senior day. He caught a 5-yard touchdown pass with 4:25 to go in the 3rd quarter and he scored the final Saints touchdown on a 30-yard touchdown reception that he caught in traffic with three defenders surrounding him. He finished with five receptions for 97 yards and two touchdowns.