2011 Capital District Baseball Preview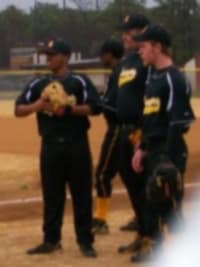 CAPITAL DISTRICT
(Teams listed in my predicted order of finish)
Atlee
2006: 8-4 Capital District, 12-8 Overall
2007: 8-4, 13-9
2008: 7-5, 11-9
2009: 6-4, 12-7
2010: 8-2, 12-7 (Capital District Co-Champions)
The Raiders continued a string of winning years in 2010, earning a share of the regular
season district title in the process. Coach Kevin Elrod notes that the Raiders tangled with
seven of the top ten teams in the area in '10, yet managed to finish with a 12-7 record.
Atlee returns seven of nine regulars from that squad, and this has the makings of a very
good year for the Raiders. Sophomore pitcher Luke Bolka went 5-1 in his freshman season,
striking out 41 batters and finishing with a 3.00 ERA. Pitcher / shortstop Conner Overton
struck out 31 batters of his own in just 19 innings. Junior catcher Mitch Keeler, senior
outfielder Cody Farrar (.426), junior infielder Brent West, senior infielder Conner Hall, and
outfielder Chop Pulisic help form a lineup that hit .350 as a team in 2010. Coach Elrod says
that both pitching and offense should be strengths for this team, adding that "I feel that this
is probably one of the best teams that Atlee has had in a long time." The Raiders had a
tough end to the season last year. After beating Lee-Davis twice during the regular season,
Atlee played the Confederates a third time to break a tie atop the district standings. L-D
prevailed, turning Atlee's district semi-final against Hanover into an elimination game. The
Hawks won that one, preventing the Raiders from reaching regionals. Coming off a season
in which a young team showed flashes of greatness, the 2011 Raiders look like a group that
will avoid missing the regional tournament a second time.
Hanover
2006: 12-0, 18-6 (Capital District Champions)
2007: 11-1, 14-9 (Capital District Champions)
2008: 11-1, 17-6 (Capital District Champions)
2009: 10-0, 24-2 (Capital District & Central Region Champions)
2010: 7-3, 17-5
With a baseball program as strong as Hanover's, concepts like what constitutes a successful
season are all relative. The Hawks put together a very nice 17-win campaign in '10, but
that year didn't include a district title or regional berth, leaving them hungry for more
heading into this season. Coach Charlie Dragum has a team with the potential to get that
return trip to regionals. Top players for Hanover include senior first baseman Ryan Long
(.339, 10 2B, 19 RBI), senior outfielder Zack Broaddus (.415, 8 doubles, 18 RBI), junior
catcher/outfielder/infielder Bryant Lowery (.383, 12 RBI), senior outfielder/pitcher Brian
Johansen (.301 BA), sophomore infielder Andrew Knizner (.333, 2 HR, 15 RBI), junior
outfielder Lew Johnson (.310 BA), and junior infielder Blake Spiers (.280, 14 RBI). Coach
Dragum says that these players will help to form a lineup that's "strong one through nine"
and will have decent team speed. Pitching-wise, junior Chris Childress (5-1, 3.07 ERA, 34
K) and senior Reece Chalkley (3-2, 2.87 ERA, 32 K) look to be the top hurlers. Coach
Dragum says that pitchers are plentiful, but experienced arms are not. This is going to be
another good Hanover team, but the question remains: How good? With the other Hanover
County schools fielding strong teams this year and last, Hanover still may be the premiere
program in the county, but the era of routinely going undefeated in district play might be
over. Still, when 17-5 is just an "ok" year, you know you're doing something right. If the
Hawks can develop one of their pitchers into a big-game guy, that strong batting order will
take care of the rest. Hanover has a great chance to make it back to the regional bracket
this season.
Lee-Davis
2006: 7-5, 11-8
2007: 9-3, 13-8
2008: 9-3, 13-7
2009: 8-2, 14-6
2010: 8-2, 16-5 (Capital District Co-Champions)
The Confederates had their best season in a few years in 2010, finishing in a tie for the
district title. Lee-Davis then defeated Atlee in a one-game playoff for the regional berth.
Coach Kenny Lewis' squad has made progress each of the last three seasons, and should
remain a contender in 2011. Two vital players among the Confederates' ranks will be senior
righty/first baseman Jordan Boze, one of the top players in the district since his sophomore
year, and lefty/outfielder Michael Thomas (committed to UNC-Charlotte). They'll provide
Lee-Davis with a good one-two punch on the mound. They'll be joined by others like senior
catcher Hank Parsley, senior Logan Heckman in the outfield, junior Austin McCullough at
shortstop, plus a trio of potential contributors as freshmen in Josh Lam, Haiden Lamb, and
Bryce Sheppard. Sheppard and sophomore Sean King are a pair of young hurlers who will
be a factor this season and beyond. Having two good arms will keep the Confederates in
this race and give them a legitimate shot to return to regionals again in 2011. However, in
the experience department, it seems like L-D may be a half-notch below Atlee and Hanover
at the outset. Coach Lewis says that this team is "young in spots," and makes reference to
the three freshmen listed above. He does anticipate having "good senior leadership," and
hopes the team will be "better in May than we are in March." I look for this team to be a
definite winner again, but they'll probably need to play their way into regionals via the
district tournament when all is said and done.
Henrico
2006: 4-8, 9-10
2007: 7-5, 13-9
2008: 9-5, 16-7
2009: 4-6, 5-14
2010: 5-5, 14-9
Henrico's remarkable pattern of success continued in 2010, as Coach Ken Schrad's group
won the Capital District tournament as the #4 seed, qualifying for regionals for the third
time in four seasons (the Warriors also won the Capital tourney in 2007). Much of the
lineup that led Henrico to fourteen wins in '10 is gone, but some stalwarts return. Four-year
starter Andrew Props is back behind the plate after hitting .323 with 26 RBI as a junior.
Three-year starter Nick Toombs (.292, 15 RBI, 5 SB) will contribute both as a third baseman
and a pitcher. Football standout Treyvon Robinson (.235, 7 RBI, 16 SB) will man the
outfield for the Warriors. Junior shortstop Jackson Wright hit over .300 last year in limited
action, and will have big shoes to fill as his predecessor, Landon Prentiss, is now the
shortstop at VCU. Coach Schrad says that "excellent leadership from senior captains Props,
Toombs, and Robinson" is a major asset heading into 2011. "They know what it takes to
win games and championships." He adds that this year's squad is "best described as the
'Baby Warriors.'" Indeed, Henrico will feature a dozen new varsity players this year, eleven
of whom are underclassmen. They'll be on the right track thanks to some strong senior
leadership, but, as Coach Schrad says, "We'll need to learn to crawl before we walk, walk
before we run, and run before we sprint to any tourney run." The Warriors will have some
serious rebuilding to do this year, but Schrad's track record speaks for itself. Finding top-of-the-rotation starters as the year unfolds will be a must, but it seems likely that the Warriors
will be peaking later rather than sooner once they get through some growing pains. Henrico
will still very much be in the mix to make the playoffs, but will have to fend off Varina to
make it back to post-season play.
Varina
2006: 9-3, 16-7
2007: 5-7, 7-12-1
2008: 4-8, 7-13
2009: 2-8, 4-12
2010: 1-9, 5-12
Coach Matt Anzivino takes over a Varina program that went 5-12 last year with a very
young team. The Blue Devils return seven starters, including lefty pitcher Jarrett Poh, who
had a very strong sophomore season. Senior shortstop/pitcher Kyle Epps (.380, 8 doubles),
senior DH/second baseman Andrew Grainer (.415), junior first baseman Dillon Small, junior
catcher Cameron Jaster, and sophomore left fielder Hunter McKinney were all contributors in
2010. Senior outfielders Kris Cannon (who missed last season) and Ryan Jennings should
have an impact in 2011, as will sophomore transfer Darian Carpenter, an infielder/pitcher
Coach Anzivino says "should add valuable depth in the infield and pitching rotation." Varina
looks to be decent in the hitting and fielding departments, but pitching remains the biggest
question mark at this early stage. "I feel that if the pitching staff comes around, and there
is depth established in the bullpen, that we can be very competitive and overall a top-four-district-caliber squad," says Coach Anzivino. With Henrico rebuilding, and Glen Allen not yet
playing varsity ball, this could be the year for Varina to rise up and grab a playoff berth. A
10-6 season on JV two years ago bodes well, as does the return of Cannon. However, there
will still be much work to do to get there for a team that hasn't won more than seven games
since 2006. Games against Highland Springs and Henrico will make-or-break the Blue
Devils' season.
Highland Springs
2006: 2-10, 6-13
2007: 2-10, 6-14
2008: 3-9, 6-13
2009: 0-10, 4-16
2010: 1-9, 5-14
Coach Hayes Smith, Jr. assumes command of the Highland Springs program after a five-win
season in 2010. He'll have four starters back from last year's squad, along with some
promising newcomers. Pitchers Aaron Watson and TaShaun Taylor return after anchoring
the Springers' staff last season. Indeed, Coach Smith says pitching will be a team strength
this year with the experience of Watson and Taylor. Senior Darnell Connor will join Taylor in
the outfield. Four important underclassmen will also have an impact. Sophomore
infielder/pitcher Me'Kel Crawford, sophomore first baseman/pitcher Tyler Slater, freshman
infielder Jalen Carter, and freshman outfielder Ryan Scott should all contribute. Coach
Smith acknowledges that a lack of varsity experience could be a hurdle the Springers will
have to overcome. He adds that "a .500 season would be a good goal," as Highland Springs
tries to move back towards the winning side of the region. With two experienced pitchers of
their own, the Springers won't be a pushover in 2011. While Highland Springs may surprise some people, with so many
inexperienced players elsewhere in the lineup, better years may be ahead for Highland
Springs down the road.
District Overview:
Hanover and Atlee will likely battle it out for the district title during the regular season.
They're the two teams with the most experienced and accomplished all-around pitching
staffs. I think the experienced arms at the top of the Raider rotation give them a very slight
edge.
Beyond that, Lee-Davis will still be a tough opponent for anyone, and will be the Capital
dark horse after finishing atop the standings in 2010. Henrico is rebuilding, while Varina
has some veterans back, so this could be a year when the Blue Devils make it back to the
playoffs if they can get past the Warriors. Highland Springs will probably round things out,
but the Springers should be competitive.
Projected Regional Qualifiers: Atlee (Champion) and Hanover
Coaches' Consensus:
1. Hanover
2. Atlee
3. Lee-Davis
4. Henrico
Be sure to check out these FREE
VirginiaPreps.com Baseball resources:
Class of 2011 Top Prospects Listing! |
Class of 2012 Top Prospect Listing! |
Baseball Commitments & Signings
Catch Tom Garrett's Central Region baseball previews over the next several days, right here
on VirginiaPreps.com! During football season, you can also hear Tom on "Hardly Workin'"
with Greg Burton on ESPN 950 AM WXGI. You can connect with Tom on Facebook at