2009 Colonial District Football Preview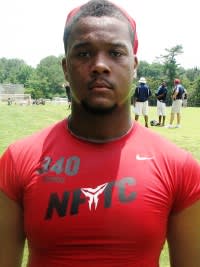 OVERVIEW
Last year, I remarked that the Colonial District should be improved as a whole. That was
true in 2008, but is not the case this season.
Hermitage is probably the only true standout team in the district. They're in more of a
"reloading" cycle than "rebuilding." The Panthers may be even better next season, but
they're the odds-on favorite to win the district title and advance to the Central Region,
Division Six playoffs. The team with the best shot to challenge the Panthers is Deep Run.
District player of the year Antone Exum is gone, and the Wildcats are rebuilding a bit. That
said, they still return a host of good players that will probably make a winning season a
lock.
Right behind those two will be Patrick Henry. The Patriots have the talent to test either of
the top teams, but Hermitage has dominated PH the last few seasons. That's why I don't
see them as a major title threat. However, I do think the Patriots will be back in the D-5
playoffs with a nice '09 season.
The picture gets much murkier from there. J.R. Tucker, Douglas Freeman, John
Marshall, and Mills Godwin all have a shot at fourth place. The Rebels made the playoffs
last season, but (stop me if you've heard this) they're rebuilding. Freeman should still post
a record around .500 this year. The same could be said of improved John Marshall and J.
R. Tucker. Marshall benefits from the transfer of former Midlothian star Josiah Shelton,
while Tucker returns all of its significant skill players, including district POY candidate Jacob
Bennett, and has a good supporting cast made up largely of juniors. Of all the teams in the
second tier of the district, Tucker has the highest potential upside. Mills Godwin
experienced its worst season since moving to Group AAA, winning only twice on the field. I
don't think the Eagles will be that bad this season, but I don't think they have the talent
base in the upper classes to make a significant move, either. Finally, Thomas Jefferson
suffered through another 0-10 year, but looks to be more explosive than the team that
endured a staggering seven shutouts a year ago.
GAMES TO WATCH
Week One: Patrick Henry @ Hanover — This battle of D-5 playoff contenders will be a
good chance to see where each stands after losing some key 2008 seniors.
Week Two: Hermitage @ Meadowbrook — A nice early-season matchup between the clear
favorite in the Colonial and a possible favorite in the Central.
Week Three: Varina @ Hermitage — Another marquee matchup between two of the area's
top teams.
Week Four: Deep Run @ Hermitage (Game of the Year) — It's only the fourth week of
the season, but this could be for the district title when all is said and done. This was the
only game Deep Run lost last season.
Week Five: Patrick Henry @ John Marshall — The Justices may be a D-5 dark horse this
year, and they upset the Patriots in 2008.
Week Six: John Marshall @ Deep Run — This was a fairly lean week, but both of these
teams may have winning records at this point.
Week Seven: Patrick Henry @ Deep Run — Even if Deep Run doesn't beat Hermitage, this
is a big game between two good teams.
Week Eight: Mills Godwin @ J. R. Tucker — Tucker won the Short Pump Bowl last season
for the first time since 1992. The Eagles will be seeking revenge in a battle of two improved
teams.
Week Nine: Douglas Freeman @ John Marshall — This game could decide the battle for
fourth place, or, more importantly, could have impact on the D-5 playoff picture.
Week Ten: Hermitage @ Patrick Henry — Hermitage has pummeled PH the last few
years, but this is still a huge game that will decide the district title if both these teams can
get past Deep Run.
PREDICTIONS
Coaches' Consensus                            My Prediction
1. Hermitage                                          1. Hermitage
2. Deep Run                                           2. Deep Run
3. Patrick Henry                                      3. Patrick Henry
4. Douglas Freeman                                4. Douglas Freeman
                                                             5. John Marshall
                                                             6. J. R. Tucker
                                                             7. Mills Godwin
                                                             8. T. Jefferson
My picks for:
Champion: Hermitage
Offensive Player of the Year: Easton Gordon, RB, Hermitage
Defensive Player of the Year: Daryl Howell, LB, Hermitage
Breakout Player: Michael Mey, WR/DB, J. R. Tucker (not counting Josiah Shelton, who's
already an established standout, albeit in another district)
Keep watching for more articles from Tom previewing the upcoming football Season in the
Central Region, and for the most comprehensive high school coverage you'll find anywhere,
look no further than VirginiaPreps.com!