Tidewater Predictions - Kicking Off 2018
We're back! The long wait is over for the start of the 2018 High School Football season. Before we tackle the games in Tidewater, let's review the Predictions from last year with Matthew Hatfield, VHSL-Reference.com and Coach Ed Young below...
Revisiting 2017 Predictions Battle:
| Forecasters | Wins | Losses | Percentage | Playoff Record |
| --- | --- | --- | --- | --- |
| Matthew Hatfield | 220 | 54 | 80.3% | 31-12 |
| Coach Ed Young | 215 | 59 | 78.5% | 32-11 |
| VHSL-Reference.com | 192 | 79 | 70.8% | 27-16 |
Thursday's Opener (8/23/18):
Dinwiddie at Denbigh . . . When these two met at Dinwiddie in 2017, the game was not pretty at all for the Patriots. The host Generals pitched a 70-0 shutout, and though Coach Billy Mills saw some very valuable players graduate, it'll be hard to imagine the margin being drastically different with the return of All-State QB K'ymon 'Peety' Pope. Denbigh's defense will have its hands full handling his dual-threat, run/pass skills, plus covering receivers Cla'Trey Reese and Robert Barlow. Those two combined for 826 receiving yards and 10TD's last year.
In getting outscored 422-16 last season, Denbigh found the end zone in only two games; a 44-6 loss to Hampton and 55-10 defeat at the hands of Warwick in the finale. To keep this one close early, the Patriots have to step up defensively. Senior Nashawn Moses had six sacks a year ago and is their most consistent pass rusher. Offensively, they'll need their offensive line to give junior QB Josiah Hughes time to find open receivers, sophomore Andre Brown and junior Kevin Anderson two of his main targets.
Matt Says: Dinwiddie 48-7
VHSL-Reference.com Says: Dinwiddie 51-0
Coach Young Says: Dinwiddie 42-6
Game of the Week:
Bayside at Cox . . . The five-game winning streak in the series for Cox ended in 2017 with Bayside throwing the hammer down to the tune of 63-24. That marked the first time Bayside scored that many points in a single game since October 23, 1992 when the Marlins beat Kellam 63-28. Clearly, the Falcons hope to be much better defensively and should with the return of All-State DB and do-it-all athletes Tayvion Robinson. In that last encounter, Robinson had a pick-six, one of three for him during his electric junior campaign.
Cox knows it has to wrap up better in space as the Marlins torched them for 573 total yards. Yet, the stat that sticks out to me most from that game is the Time of Possession category, one that the Falcons only won 24:53 to 23:07. That will have to change with a myriad of players they want to run the ball, including Robinson, Leno Lester and powerful fullback Jackson Morgan. They will test a Bayside run defense that saw its three best players up the middle graduate in LB's Tray Jones (Hampton University) and Tyree Dozier as well as d-tackle Nyjael Faulk.
While Bayside wants to continue get the ball to its playmakers in space – such as Malik Johnson (5Rec. 132Yds. 2TD's in last year's matchup), Abraham Evans, newcomer Khamran Laborn and others – they want to stay cognizant of the fact that running the ball with Tajae Pollard and Dajon Bowman effectively will set up play-action and big strikes down the field. Furthermore, sophomore QB Dasharn Wright is making his first start and they want keep things as simple as possible.
The unit that could certainly tell us the outcome is the Cox offensive line, provided they give Robinson room to operate and take off towards the end zone. Three starters are back on the o-line for the Falcons in seniors Sam Dalton and Eli Dills along with junior center Nate Unger. If Bayside is unable to get penetration and shed blocks, opportunities to make big plays should be there for Cox in what has the feel of a total toss-up game, despite last year's lopsided and somewhat unexpected wide margin.
Matt Says: Cox 26-20 (OT)
VHSL-Reference.com Says: Bayside 32-23
Coach Young Says: Cox 29-27
Rest of Friday's Slate: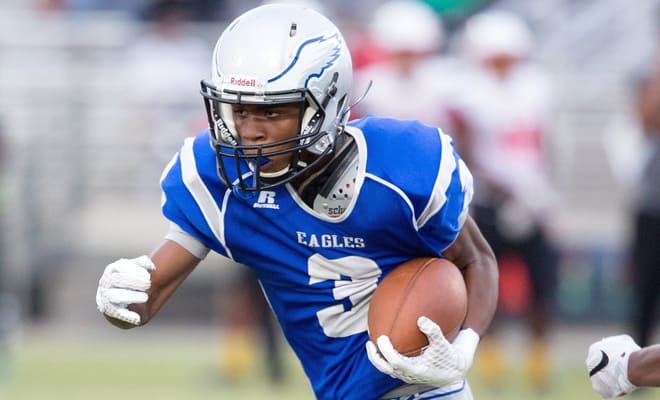 Green Run at Landstown . . . There certainly will be some anxiousness for Green Run senior QB Noah Spencer making his first start against his old school. Landstown comes in as the reigning Beach District Champs after putting together a surprising 12-1 run and their best season since the Percy Harvin days. But gone are their two most dynamic players in QB Brent Stukes and WR/DB Joseph White (UVA). That means new starting QB Chris Price has to be a prudent decision-maker and use the returning weapons around him, specifically RB Luqman Haskett and WR Jalen Jennings, to the best of his ability.
Landstown might not want to get in a shoot-out with Green Run, though. The Stallions are a streaky team, and the passing connection of Spencer and junior WR Lakeem Rudolph, a lanky 6'5" target, along with the speedsters the Stallions can utilize in space in the screen game, could make it tough for the Eagles to keep pace, even at home. This game to me will come down to how well Green Run blocks sophomore d-tackle Denzel Lowry and senior end Taeveon Lane. Keep them at bay and an upset just might happen here.
Matt Says: Green Run 30-28
VHSL-Reference.com Says: Landstown 29-12
Coach Young Says: Landstown 28-7
Ocean Lakes at Kellam . . . To keep Ocean Lakes from winning their 13th straight in this series and notch their first win over the Dolphins since 2006, Kellam will have to be strong against the run. The Dolphins have one of the top running backs in the Beach District in Jake Low, plus Eli Snowden and QB Alexander Jedlick can break off long gainers. Both teams are dealing with a few key injuries. There are a couple of receivers to watch out for in this one in Kellam's Braxton Hayes, maybe the most under-appreciated talent in the Beach District, and Ocean Lakes emerging sophomore wideout Myles Alston. In the Dolphins corner is that they have a lockdown cornerback in Tayvion 'Tank' Land.
Matt Says: Ocean Lakes 34-16
VHSL-Reference.com Says: Ocean Lakes 41-14
Coach Young Says: Ocean Lakes 44-8
Kempsville at Salem-VB . . . The last time Kempsville beat Salem was in 2009, prevailing 20-7. In the nine straight wins for the Sun Devils in this series, the Chiefs have scored no more than seven points. It'll be hard to top that number considering their starting quarterback from last year, Vinny Murphy, is now wearing a Salem uniform. He'll be paired with 1000-yard rusher Kaelon Black, a junior holding offers from the likes of East Carolina, Virginia Tech and Wake Forest.
Matt Says: Salem 49-7
VHSL-Reference.com Says: Salem 34-3
Coach Young Says: Salem 48-0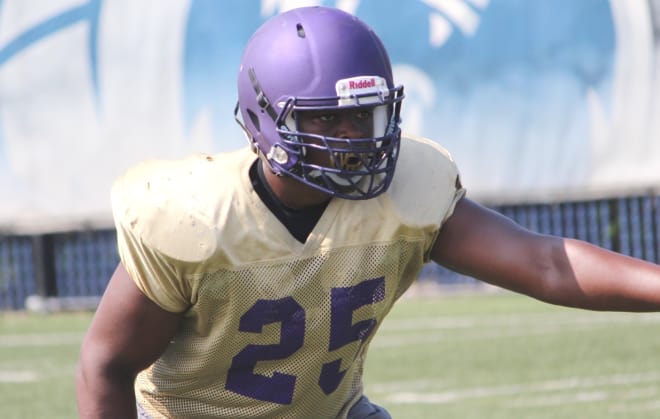 Princess Anne at Tallwood . . . Winners of 13 of the 14 meetings in the series, Tallwood's lone loss in that stretch to Princess Anne came in 2015 when the Cavaliers hung 60 points on the board and limited the Lions to 21. The Lions return one of the better passers in the Beach District in Sebien Stone, plus look to mix in safety Ricky Harleston, a four-year starter at safety, more on offense in the backfield. That bodes well for them maintaining balance. Watch out for WR Josh Lucas to have a breakout year on either side of the ball for the Lions, too.
Princess Anne begins life without Darryl Jones, who was the co-Beach District Offensive Player of the Year and is now at Maryland. However, the Cavs have another bona-fide star waiting to step in and be a big-time playmaker in sophomore Tony Grimes. As a freshman, Grimes made five interceptions and he already has about a dozen offers. Rather quietly though, Tallwood brings back ten defensive players that got starts a year ago, including perhaps the best linebacker in the Beach District in Khairee Abudllah.
Factoring in Abdullah's presence and the Lions' experience on defense, the Cavs will be tasked to sustain drives, even with a big, athletic QB in Azaiyah Roberts and a more than adequate tailback to complement him in Chantz Baylor.
Matt Says: Tallwood 23-13
VHSL-Reference.com Says: Tallwood 34-20
Coach Young Says: Princess Anne 28-20
Huguenot at Booker T. Washington . . . Up in Richmond last year, Huguenot got the better of Booker T. Washington, 35-6. But the Bookers, at home, hope to showcase the supreme talents of sophomore running back Rodney Hammond, who racked up more than 1600 yards from scrimmage during his freshman campaign. Hammond holds several offers from Power 5 schools already, Michigan out of the Big Ten included. If Huguenot can contain him, then they have to like their chances of winning on the road.
Even though Huguenot plays with good tempo and they have the ability to stretch the field vertically with one of the state's premier junior wideouts in Kevin Gayles, their defense figures to have their hands full, much more than year ago.
Matt Says: Huguenot 21-20
VHSL-Reference.com Says: Huguenot 33-17
Coach Young Says: Huguenot 21-18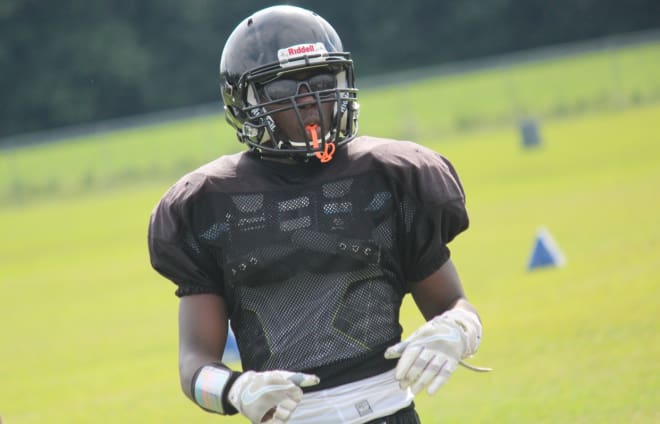 Churchland at Kecoughtan . . . Each of the last three meetings between these two programs went in favor of Kecoughtan, which doubled up the Truckers 28-14 in 2017. Year two at the helm for Dontrell Leonard at Churchland should yield better results than their 1-9 record from last season. It remains to be seen who gets the nod as the starting quarterback for Kecoughtan between junior Antonio Davis and 6'4" senior Razohn Jackson. Either way, look for RB/LB Jonathan Melvin, who is drawing a lot of FCS attention, to be featured a great deal.
The Truckers look to take more shots down the field with their new starting QB Kisheed Watson. He has a huge target for jump-ball situations to go to in 6'3" senior Daquan Felton. Junior RB Kenny Gallop and senior LB Jason McManes are two others that have been on the verge of emerging as consistent playmakers. This is a game where they can start to get more notice on them, and in turn, on a Truckers team that looks to be on the rise.
Matt Says: Churchland 18-16
VHSL-Reference.com Says: Kecoughtan 28-14
Coach Young Says: Churchland 21-14
Bethel at Maury . . . When these two squads squared off last year, Maury pulled out a close 19-14 victory. The Commodores believe they have the type of firepower to win much more comfortably this time around, with the addition of four-star corner and Clemson commit Sheridan Jones blanketing the top receiver for any opponent they see. Offensively, they have to break in a new quarterback with Alvonte Lawson replacing Kevin 'Bam' Mills, but they are stacked at the receiver position with three scholarship level talents in KeAndre Lambert, Ty Granger and Dashaun Peele. Lambert led Hampton Roads in receiving as a sophomore.
Meanwhile, for Bethel to win, they know it'll have to be a ball-control style offense that keeps the Maury offense watching from the sideline. Tyra Brewington-Parker, previously a running back, will be at quarterback and figures to hear his number called a lot on draw plays. Jackson Griffiths, a junior lineman and three-year starter, is a sturdy blocker that he'll probably be leaning on quite a bit in this matchup.
Matt Says: Maury 35-7
VHSL-Reference.com Says: Maury 27-10
Coach Young Says: Maury 28-24
Hopewell at Norcom . . . Based on the first game of last year, few would've expected Norcom to go from starting 6-0 to being knocked out in the first round of the playoffs by a sub-.500 Lakeland team. Conversely, Hopewell recovered from the 18-14 home loss to the Greyhounds by winning six in a row, but dropped their final three regular season games before going on a magical run as the #4 seed to capture a state title.
There are a lot of fascinating matchups, or games within the game, to keep an eye on in this one. For one, Norcom QB Jacoby Smith, a three-year starter and junior, has impressed all off-season long. His mobility looks better than before, and in their scrimmage against Kecoughtan he had four touchdown passes in the first half alone, two measuring 80 yards to newcomer Karon Prunty, an Oscar Smith transfer. The receiving core of Prunty, All-State candidate CaSaan Dixon, Thomas White and Celon Lawrence can pose serious challenges.
Hopewell's best defensive back in Riezon Murphy, the Class 3 Defensive Player of the Year here on VaPreps, is gone. Nonetheless, Trey Henderson is a sophomore that's not afraid of the big moment, intercepting a couple of passes in the State Semis against James Monroe. The Blue Devils can also bring the blitz and collapse the pocket around Smith with DL Reggie Ruffin and company applying pressure.
How the Norcom offensive line holds up and what kind of production they get out of the running game will be very telling in the outcome. To me though, what will decide it is how well the Hopewell offense operates with a new starting QB in Daniel Grier against a Norcom defense that was very stingy last year, may take a step back without stud LB Allen Boykins (Norfolk State), yet brings back LB Taurus Jones from injury and won't be intimidated by a deadly receiver in Sean Allen one bit.
This one figures to go right down to the wire, and with the Greyhounds at home wanting to make a statement against the defending State Champs, my gut tells me to lean with them ever so close.
Matt Says: Norcom 22-16
VHSL-Reference.com Says: Norcom 16-15
Coach Young Says: Hopewell 14-7
Norview at Northeastern (NC) . . . When these two schools met up last year in Norfolk for a clash, it was rather high scoring. Northeastern won the affair, 40-28, and the scoring got started by RB/LB Traveon Freshwater. The well put together 6-foot-2, 220-pound East Carolina burst 75 yards for a touchdown. Interestingly enough, 21 of the 28 points scored by the Pilots were from players that transferred to other schools in the off-season; Bayside and Maury to be specific.
The debut of Reginald Chavis as Norview Head Coach comes with plenty of anticipation. Chavis has been preaching attitude at altitude, and his blueprint at Smithfield worked well to the point where they beat perennial power Lake Taylor in the first round of the playoffs. Many of his better players are underclassmen, and to stop Freshwater, they're going to need the defensive front to play a monster game. With d-lineman Derick Eason now at NC State, the means junior DE Phillip Ross (6-2, 235) has to be a major force in the trenches.
Matt Says: Northeastern 30-14
VHSL-Reference.com Says: N/A
Coach Young Says: Northeastern 35-12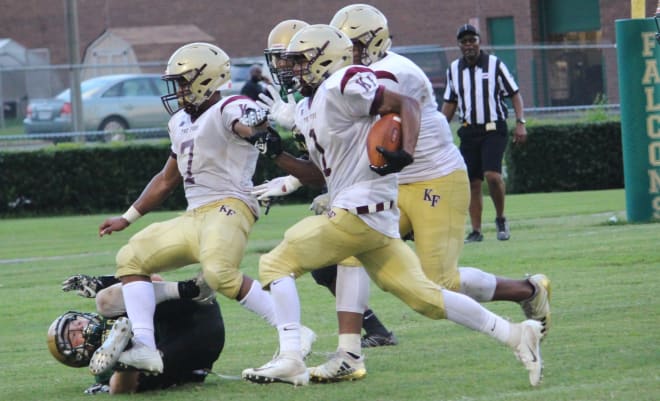 Wilson at King's Fork . . . Year two of the Scottie Littles era at King's Fork provided plenty of excitement, the highlight coming in the form of snapping Oscar Smith's 99-game Southeastern District winning streak in the regular season finale. The Bulldogs saw some key pieces depart, most notably starting QB Justin German and also WR/DB Chris Shearin, a Missouri commit who transferred to IMG Academy in Florida. They are far from depleted, though, and bring back arguably the best d-tackle combo in the area, perhaps even the state, with Treyshaun Mitchell and Jay'ree Hardy.
New Wilson Head Coach Dominic Grooms has a plan to get the Presidents competing with the better teams in the Eastern District sooner than later. This is going to be a rather tall task, going on the road and being able to block those two enforcers in the middle as well as contain a King's Fork offense that should be very balanced and up-tempo. Marc Dyer steps in as the new starting QB for the Bulldogs and he'll get plenty of support from the skill players, including RB Leo Wethington and speedy WR Bobby Boone.
Matt Says: King's Fork 28-6
VHSL-Reference.com Says: King's Fork 35-7
Coach Young Says: King's Fork 32-21
Warhill at Heritage-NN . . . Last year's 28-21 win by Warhill in this matchup surprised many, but the Lions expect to measure up against some of the better teams around. Even in that loss, Heritage QB Darius Price completed 11 of 16 passes for 248 yards and three touchdowns to three different receivers. The Hurricanes are going to have to generate more production on the ground to take the pressure off him and tire out the Warhill defense, whose best player also factors in heavily on offense in LB Noah Holmes, a D-1 prospect with several offers to date.
Holmes and Armond Fannin combined for over 1100 yards rushing last year. Warhill's biggest question is can they sprinkle any resemblance of a respectable passing game? Coach Thad Wheeler's team is fundamentally sound and physical. But to beat this season's Heritage team, a peg more experienced defensively, they have to keep them honest and may not be able to rely on just their Wishbone style running between the tackles.
Matt Says: Heritage 21-16
VHSL-Reference.com Says: Warhill 27-20
Coach Young Says: Heritage 24-20
Southampton at Poquoson . . . For a Southampton team that cracked our Preseason Class 3 Top Ten at #10, this is as good of a measuring stick as they're going to get in the opener. Poquoson checks in at #5 in Class 2 to begin and the Islanders were a whisker away from playing in the State Championship game with several key ingredients back, such as the backfield duo of Trey Hicks and Bailey Green as well as All-State level talent in Hunter Schmidt on the line, Max Barrett at linebacker and Donovan Edwards in the secondary.
The Indians haven't beaten the Islanders since a 32-22 triumph back in 2006. Last year's game was fairly close with Poquoson winning 23-7. But for Littleton Parker's bunch to pull the upset on the road, they're going to need efficient play out of quarterback Trevion Evans, a senior starter with experience. Furthermore, the offensive line must hold their blocks and defensively creating a turnover or two would be big. In the end, Poquoson's mettle and ability to wear down an opponent in their Wing-T attack seems to be a bit too much.
Matt Says: Pouqoson 24-16
VHSL-Reference.com Says: Poquoson 21-7
Coach Young Says: Poquoson 30-28
Saturday's Showdown: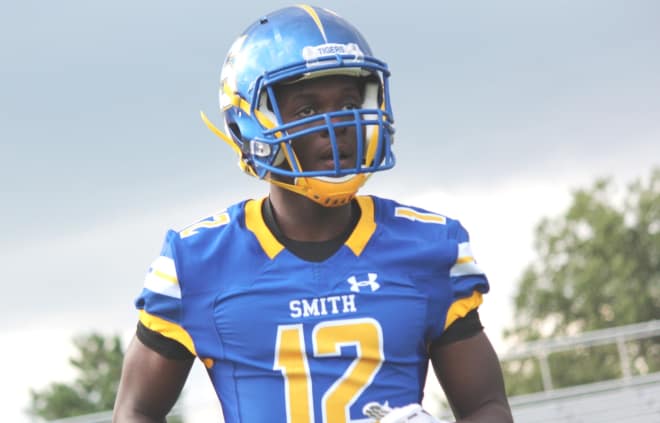 West Forsyth (NC) at Oscar Smith . . . Per usual, the Tigers open up in a spotlight matchup against an out-of-state foe that, like them, has a winning pedigree. Oscar Smith is hoping to reverse its fortunes of late as they've dropped their past six games to teams outside the state of Virginia. Their last triumph came in 2009 over Venice from Florida.
Coach Adrian Snow is in his 11th year at the helm of West Forsyth, a program that has gone 41-11 since 2014 and posted an 11-1 mark last year. Gone though is their best player in All-American defensive end K.J. Henry, who moved on to Clemson.
West Forsyth already has a game under its belt when they beat Lake Norman 26-7 last week. The Titans scored 26 unanswered points after falling behind early, getting a pair of 37-yard field goals from Christian Kaplan. Junior RB G'mone Wilson had a pair of rushing touchdowns in the win. The headline recruit on the roster is Jaquan McMillian, a three-star corner committed to East Carolina.
Oscar Smith has its fair share of talent, headed up by four-star talent and Auburn commit Cam'Ron Kelly at quarterback and defensive back. He now steps into the full-time QB job after splitting snaps there last year while playing some at running back and receiver. Other notable names with scholarship offers on the Tigers' roster include senior receiver Jarius Howard, junior offensive tackle Omega Williams, senior defensive tackle Elijah Alston, junior linebacker Malcolm Britt and Morgan State commit T.J. Tucker, a hybrid linebacker/safety.
It is likely only a matter of time before the offers come in for Tigers junior running back Joseph Bray, now in a spotlight role as the feature ball carrier. He's been really impressive throughout the off-season and containing him, along with Kelly's ability to escape the pocket and break a long run, certainly should be the focus of West Forsyth's defensive game-plan.
A matchup to watch will be in the trenches, where junior OT Isaiah Brooks (6-4, 308) is a road-grader type on the line and trying to keep a strong Tigers defensive front, headed up by Alston and newcomer Deondre Davis, a transfer from Texas, at bay. Behind them, LB Horace Sawyer is one of the hardest hitters in all of Tidewater as well. Kelly and BriQuan Harrell are two defensive backs with excellent ball skills, each capable of making a West Forsyth team with a hot and cold passing attack to be error prone.
The biggest thing Oscar Smith will stress is ball security as they can't minimize their scoring chances with turnovers. Defensively, West Forsyth has some playmakers that can make the Tigers pay for being error prone in McMillian, junior CB James Gordon and senior inside linebacker Jack Olds.
As long as Smith comes out and establishes the run, wins the line of scrimmage and their defense gets a West Forsyth team that doesn't appear to have a leg up in the speed and athleticism department that other recent out-of-state foes of the Tigers have enjoyed, then they should be able to take care of business at Beard-DeLong-Easley Field on Saturday.
Matt Says: Oscar Smith 23-13
VHSL-Reference.com Says: N/A
Coach Young Says: Oscar Smith 28-20
More Saturday Action:
Granby at Warwick . . . Following Warwick wins in 2015 and 2016, Granby was able to beat the Raiders 17-6 last year to notch their first victory over the Raiders since 1979 when Bill Holt's Comets pitched a 17-0 shutout at the old Met Park. Warwick Head Coach Corey Hairston is very confident about his team's chances to make serious noise in the Peninsula District and he has one of the better two-way players around in RB/LB Dayvon Meade, a four-year starter in the program. A heavy dose of Meade is the way to go to get the win, but Granby has one of the best sophomore linemen in the state in Katron Evans, already holding upwards of a dozen offers.
Matt Says: Warwick 19-13
VHSL-Reference.com Says: Granby 23-18
Coach Young Says: Granby 24-21
Gloucester at Woodside . . . The second game of a Saturday twin-bill at Todd Stadium in Newport News pits Gloucester against a Woodside team that has ultimately had their number, though last year's 28-20 game in the opener won by the Wolverines was much closer than many probably envisioned. Gloucester hasn't beaten Woodside since a 43-17 victory in 2000, and with their two stars from last year in QB Isaiah Spencer (ODU) and LB Cameron Walker (Hampton) at the college level, they'll need to identify who their leaders are early to return to the playoffs after a successful 2017 campaign.

Meanwhile, Woodside Head Coach Danny Dodson has a pair of capable quarterback options in Tyler Thompson and newcomer Kahleef Jimmison, a transfer from Hampton Roads Academy. Running the ball is always a specialty for the Wolverines, too. Not only do they have two mobile QB's, but D'onte Chesson is back after racking up 1152 total yards (767 rushing, 385 receiving) as a junior.
Matt Says: Woodside 42-7
VHSL-Reference.com Says: Woodside 29-16
Coach Young Says: Woodside 21-8
Play to WIN - The Picks Contest!
Want to get in on the action and have some fun? Play our FREE Tidewater Predictions Contest at the link below. Be sure to turn in picks every Thursday by 7 PM EST beginning next week (this week's deadline is Friday by 12 Noon EST. Whoever does the best and beats Matt Hatfield as well as Coach Ed Young is eligible for our grand prize at the season's conclusion, plus you can win a prize going undefeated on a given week!